simple stacking and nesting, also with lid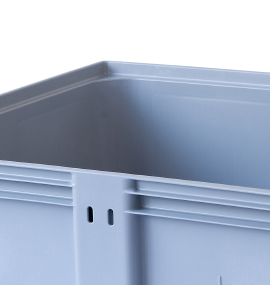 smooth interior walls allows for easy cleaning
COLORS
produkte/industrie/400_L_CTS2/kombinationen
Other colors on request
produkte/industrie/400_L_CTS2/kombinationen
Would you like an offer or more information?
Use our request form.
EUROPLAST box made of high-quality HDPE (s. image) for transport and storage in industrial and food production, for sensitive raw material and food. The box is manufactured in an injection moulding process, has normal resilience, is food-safe and acid-resistant and has smooth internal walls for easy cleaning.