EUROPLAST collection bins made of HDPE (s. image) for the presorting of various waste materials (e. g. organic waste). The optimal addition to collection systems in schools and public institutions. Impact and weather resistant bin that retains its shape in every condition and is provided with a metal bracket.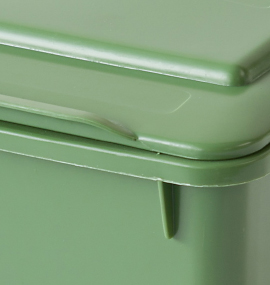 Bin is weather-resistant, UV stable, and resistant to frost, heat, and a wide range of chemicals
The metal bracket is corrosion-resistant
COLOR COMBINATIONS
produkte/wertstoffsammelbehaelter/Sortierbehaelter/10_L/kombinationen
For a color combination please select color.
produkte/wertstoffsammelbehaelter/Sortierbehaelter/10_L/kombinationen
+ Metal bracket
+ Various labels on request